The Joseph LaPorte Family in Manitoba
The Joseph LaPorte (1837 to 1894) Family
Joseph and Esther (Houle) LaPorte

Four of their children (Sylvio, back row, middle; Zachee, center left; Maria, behind Sylvio's shoulder; Marie Louise, facing the group at the back right) and their families in 1942.

The Telesphore LaPorte (1862-1920) Family
Telesphore and Hermina (Bonin) LaPorte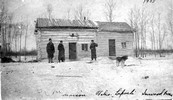 Telesphore with sons Ernest and George at their homestead, Inwood, MB 1901

Telesphore with his mother Esther Houle Laporte, daughter Blanche Beaudoin and grandson Leo Beaudoin at Leo's christening at Inwood in 1913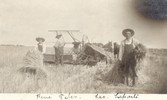 Telesphore with sons Rene and Leopold in his field at Inwood about 1917

Five of Telesphore and Hermina's children; Leopold, George, Corinne, Anna and Blanche Laporte

The Zachee Laporte (1866-1953) Family

Zachee and Marie (Schwartz) LaPorte with their first born, Alice, in 1893
Zachee and Marie's children: Alice, Napoleon and Alida in 1901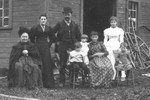 Left to right: a family friend, Mrs. LeMay; Adrienne Pacaud (Gendreau); Zachee; Napoleon; on the chair, Alida; Marie Schwartz LaPorte; Blanche Schwartz and Alice in the other chair. 1899.

The Sylvio Laporte (1873-1943) Family

Sylvio and Celestine (Leclair) LaPorte in the 1930's

Sylvio with his nephew, Napoleon, in front of Zachee's Grocery Store in St. Norbert in 1902.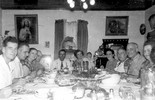 Four if their children (Aristide, Leo, Simonne and Adeodat) over for Sunday supper at Celestine's in 1948.

left to right: Gerard (Aristide's son), Leo, Simonne, her husband Bill Calthorpe, Adeodat,
his wife Rolande and baby Gilbert, Yvette, Celestine, Aristide and his wife Jeannette.