The armorial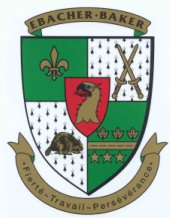 Description
Shield
Quarterly green and ermine, an escutcheon gules charged with an eagle's head couped or proper, becqued sable.
In the first green quarter, a gold "fleur de lys" and in the third quarter, a bar between three maple leaves and three stars all of gold.
In the second ermine quarter, two crossed swords of gold and in the fourth quarter a golden dormant beaver.
Crest
On a gold banner, the patronymic names : "Ebacher - Baker"
Motto
On a gold banner: "Fierté -Travail - Persévérance" (Pride - Work - Perseverance)
Signification
Primarily, the arms trace the life of Jean Baptiste Ebacher. Born in Alsace, a German occupied territory at the time, he was mobilized in a Regiment of German Mercenaries and came to this country in 1776. The red escutcheon with an eagle's head symbolized Germany. The ancester's military condition is represented by the swords.
The color green is associated to the land and the field of battles The gold bar reprensents a road permitting liaison with descendants of the North and South, represented by the maple leaves and the stars. The "fleur de lys" represents the new country of the ancester.
The beaver is associated to labor, energy and persistance in the aspirations and achievvement of the descendants