Sébastien Cholet, the ancestor of the Cholettes now living in Canada or in the United States, was born on March 7th 1677 in Aubigné-Briand, in the old French province of Anjou. This small town now belongs to the department of Maine-et-Loire and its name was changed in 1994 to that of Aubigné-sur-Layon.

It took a long time before obtaining the above precisions because the first information pertaining to Sébastien Cholet dates back to Octoher 19th 1705 when he was married in Montreal. In particular, according to the Genealogical Dictionary by Mgr Tanguay and other information given by many genealogists, it was known that Sébastien Cholet came from Aubigny (or Aubigné) in Anjou and that he was the son of Sébastien Cholet and Perrine Hylaire. Some suggested that it was a subdivision of Saumur, in the diocese of Angers, formerly in Anjou and now in Maine-et-Loire. Others suggested that, since the French Revolution, Aubigné was in the department of Sarthe and thus belonged to the diocese of Le Mans. To add to the confusion it must be noted that there are many places in France by the name of Aubigné or Aubigny.
The confusion surrounding the place of his birth was accentuated by the fact that he was born in 1685 according to some while he was supposed to have been 26 at the time of his marriage according to others. The age of 20 was also mentioned but in fact he was more than 28. The search for the origin of Sébastien Cholet in France was thus made rather difficult.
When Albert Cholette and his wife Aline Charbonnesu undertook a trip to France in the Spring of 1982, one of their intentions was to go to La Rochelle and to Marans and try and find information pertaining to Olivier Charbonneau who came from that region. Having found nothing new at the Archives of La Rochelle, they thought they might attempt going rapidly to Angers in the hope of lifting the veil on the mystery surrounding the origin of Sébastien Cholet. Their travel plans allowed them only a small activity in this search which had to be limited to Angers. A detour by the way of Le Mans was thus ruled out considering the very small probability of even finding the smallest piece of new information. They were far from thinking that their decision would nevertheless result in an important discovery for them.
Once at the Departmental Archives in Angers, they explained the purpose of their visit to the Archivist who suggested at first that they should go to Le Mans. But after being told that the diocese of Angers was mentioned in the rare documents available, he left for a few moments and came back with two registers of the archives of Aubigné-Briand. He handed one to each of the new researchers.
Albert Cholette, who had never done any genealogical research previously, received the one with the records dating from 1673 onward. It was to be a real case of a beginner's luck. By pure chance, with the greatest stroke of luck, he discovered inside of five minutes the baptism certificate of his ancestor Sébastien Cholet. Owing to the great silence prevailing at the time in the Archives, he remained very cool when, according to his wife, he should have shouted out loud his rejoicing as a result of the great discovery he had just made.
The photocopy of the birth certificate is reproduced here together with a transcription in modern lettering to facilitate the comprehension of the original. Some words could not be deciphered.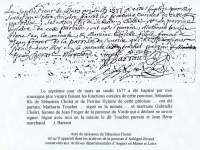 The birth certificate of Sébastien Cholet as it appears in the records of the parish of Aubigné-Briand kept in the Departmental Archives of Angers in Maine-et-Loire
It reads approximately as follows :
On the seventh day of March of the above mentioned year 1677 was baptized by me, undersigned, priest vicar performing the curial functions of this parish, Sébastien son of Sébastien Cholette and of Perrine Hylaire from this parish … were godfather, Mathurin Touchet … who signed herewith … and godmother Gabrielle Cholet, wife of Jean Froger from the parish of Voide who declared being unable to sign. Have signed with me herewith the said Touchet godfather and Jean Bérar merchant. J. Barraut
Considering their travel plans that could hardly be altered, the two researchers decided not to pursue any longer their search at the Archives but head rather for Aubigné-Briand with the hope of finding interesting information there. In order to reach that small municipality it was imperative to be in possession of a detailed road map of the region. A Michelin map, No. 64, part of which is reproduced here, provided all the desired information. It shows how Aubigné-Briand, now Aubigné-sur-Layon, is situated with respect to the well known cities of Angers and Saumur.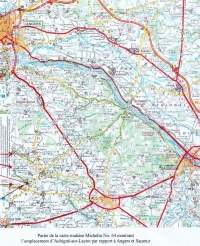 Part of Michelin Road Map No. 64 showing the relative
position of Aubigné-sur-Layon with respect to Angers and Saumur
Once they reached Aubigné-sur-Layon, Albert Cholette and his wife soon found out that there were no more inhabitants by the name of Cholet still living there. Even the oldest people could not remember anybody by that name having lived there. However, after being informed that there was a place known as "Les Chollets", at the limits of Aubigné-sur-Layon, on the road to Machelles and Thouarcé, the visitors were keen to visit the place. They found indeed an inscription to that effect on the outside wall of the building and were naturally inclined to ask themselves some questions since nobody knew the meaning of the inscription. The trip had to be pursued without further information but with the great satisfaction of having at least lifted the veil on the great mystery of the origin of Sébastien Cholet.
Upon their return to Quebec, the two travellers were keen to share their discovery and thus end the confusion surrounding the origins of Sébastien Cholet. They managed to get in touch with Reverend Gérard Lebel, a Redemptorist father from Sainte-Anne-de-Beaupré who had been publishing monthly, for some time already, the genealogy of different families from Quebec in "La Revue Sainte Anne de Beaupré". He had never been able himself to find out the details pertaining to his own ancestor and he was thus all the more surprised at the findings of Albert Cholette and his wife. In order to insure a rapid publication and at the same time a wider distribution, he suggested that a short article be written and transmitted to Father Julien Déziel, Editor-in-chief of "Mémoires", a publication of the French Canadian Geological Society. The article, published in the June 1983 issue, No. 156, pages 110-111, presented a reproduction of the photocopy of the birth certificate of Sébastien Cholet together with a small road map to locate Aubigné-Briand.
Father Lebel then prepared a more elaborate article entitled : "Sébastien Cholet dit Laviolette" which he published in the July-August 1984 issue of "La Revue Sainte Anne de Beaupré", vol. 112, No. 7, pages 328-330. Having recalled the origins of Sébastien Cholet in France, he presented a brief history of his marriage with Ann Heard and of their lives in Montreal and in Pointe-Claire. The following year he presented a more complete genealogy of the ancestor in volume No. 10 of the collection "Nos Ancêtres", pages 49-57. An English version prepared by Thomas J. Laforest was published in 1990 under the title "Our French Canadian Ancestors» by the LISI Press, Palm Harbor, Florida.

Years went by and after the death of his wife, intrigued as ever by the history of the place known as "Les Chollets", Albert Cholette decided to return to France in the Spring of 1992 and spend an entire day at the Departmental Archives of Angers to search further the records of Aubigné-Briand. He found, for the interval between 1673 and 1702, more than thirty different certificates of births, marriages and deaths. The different records available then were not the original ones as in 1982 but rather copies of them kept on microfilms. Given the difficulties in reading the handwritten texts it is highly probable that many relating to the Cholet family went unnoticed. Nevertheless, many interesting details obtained mainly through the marriage records made it possible to reconstitute the structure of the Cholet family at the time.
The grandfather of our ancestor was also named Sébastien (which means : venerable, august). He had a brother named Jacques. Here is the family portrait that could be obtained :
Sébastien Cholet who most likely died on February 28th 1688.
Sébastien Cholet, husband of Perrine Hylaire
Jacquine, born around 1672, died on September 4th 1680
Mathurine, born on March 17th 1675, died on August 9th 1678
Sébastien, our ancestor, born on March 7th 1677, died in Pointe-Claire on April 8th 1728
René, born on July 6th 1684. His mother died on that day and was buried the next day
Renée, married to Couillibaut
René, born on November 18th 1680
René, married on July 9th 1986
Pierre, born in 1987, died 0n October 3rd 1689
René, born on November 8th 1688
François, born on December 3rd 1689
Gabrielle, married to Jean Froger. She was the godmother of our ancestor Sébastien Cholet
Mathurine, married on July 2nd 1686 to Pierre Rabeau
Sébastien, born on May 26th 1687
A daughter who died on October 29th 1698
After the death of her husband Pierre Rabeau, on January 6th 1696, she married,
on November 27th 1698, Jean Froger who was the widower of her sister Gabrielle

Jacques Cholet, died on November 26th 1690. His wife Georgine LeDuc died on Sept. 21st 1699
Vincent, married to Jeanne Coreau on June 26th 1698
Marie, born on May 11th 1700
René, born on March 29th 1676, husband of Jacquine Coteneau who died on July 24th 1699
Jacquine, born in June 1695
Jacquine, died on March 1st 1695
Perrine
Mathurin, married in 1699
The records also refer to a Thomas Cholet, husband of Jeanne Breton, who might not be related to the previous ones. Four of their children are mentioned :
Thomas, died on August 25th 1696
Michel, born on March 28th 1696
Jeanne, born in 1698
François, born on March 3rd 1702
Further investigations on the place known as "Les Chollets" have led to the Dictionnaire Historique géographique et Biographique de Maine-et-Loire, published in 1974. On page 705, under the name Cholet, one can read :
Cholet, village, town of Aubigné-Briant. – Les Cholets (Cass.) –
The houses of the small farm Les Chollets 1780
(The register of lands in Aubigné)
It can be seen that "the houses of the small farm Les Chollets" correspond to the place known at present as "Les Chollets".
As to the date of departure of Sébastien Cholet from France, it could not have been before November 27th 1698 because he was present on that day, with his younger brother René, at the wedding of his aunt Mathurine with Jean Froger. The date of his arrival in Canada is unknown but many estimate that it was around 1702.