American Bisson Association
---
Our genealogy on the Bissons of North America.
---
Gervais BISSON, dit St-Côme,
is he the ancestor of all the Bissons of North America ?
---
1650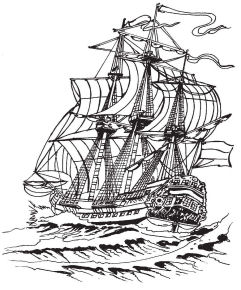 It was around this year that Gervais Bisson made the voyage to New France (Nouvelle-France). It was however in 1652 that the spouse of Gervais, Marie l'Hérault (Lereau), their two children : René-Gervais, age ten years, and Antoine, age six year, as well as his brother Florent, his spouse Jeanne-Yvon, all arrived at Québec on board the ship of Pointel or that of Poulet. Florent and Jeanne are the parents of Mathurine, age 14, and Michel, born in 1640.
Enthused by the conferences of Robert Giffard at the hotel While House (l'Hôtel du Cheval Blanc) of Saint-Cosme-de-Vair, Simon l'Hérault, brother of Marie and the Bisson family longed dreamed to leave for New France. Many among their friends and countrymen had signed an engagement and had joined in land shares in Beauport that Robert Giffard had established.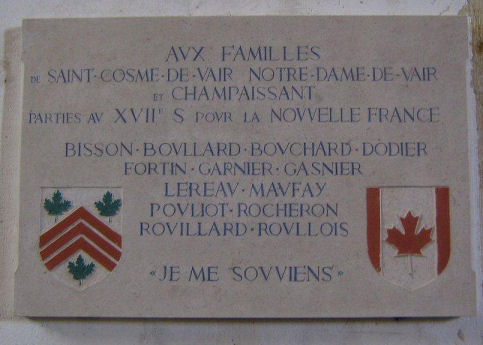 ---
The Maine Region in France
During the XVIIe century, the Maine region had too many workers for agriculture and trade work. The taste of independence and a better knowledge of the New-World made it kind of easy to stir up ways for some to depart.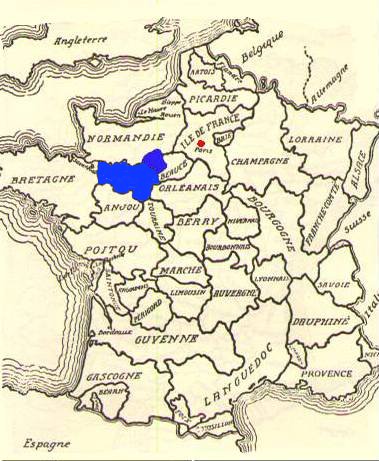 Although there wasn't a direct opening to the sea, the Maine Region (identified in blue on the map to the right) sent a good number of it's children during the XVIIe century who formed over there a valuable planting of people at the beginning.
Workman, work-cutters and farmers were the first to "work the earth". We still find evidence, not only in the names of their descendants but also in the French spoken in the valley of the Saint-Lauent which is very related to the language spoken today among the habitants of the region of Maine.
---
Saint-Cosme-en-Vairais
With regard to Gervais Bisson, Marie Lereau and their children René-Gervais and Antoine, we suppose that they were from Saint-Cosme just like Florent for which the marriage act was found by father Godbout but not the one of Gervais which would provide with accuracy the dates of birth and marriage.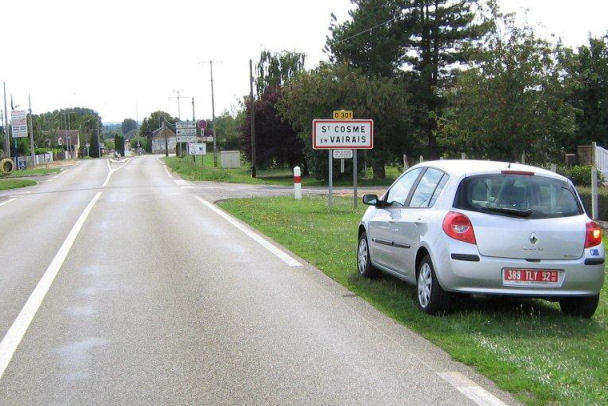 The township of Contres-en-Vairais, were the Bissons come from, has existed for a long time on the maps of France. Contres, Champaissant and Saint-Cosme-de-Vair forms only today a small community, called Saint-Cosme-en-Vairais. There is only one road full of houses. The ancient cemetery has disappeared to become the place for a church, at which we record a town-hall, two public schools, a police station, a post and telephone office , a parish hall and a single hotel, called Trois Pigeons. The old While Horse Tavern (auberge du Cheval Blanc) has disappeared at the same rate of speed.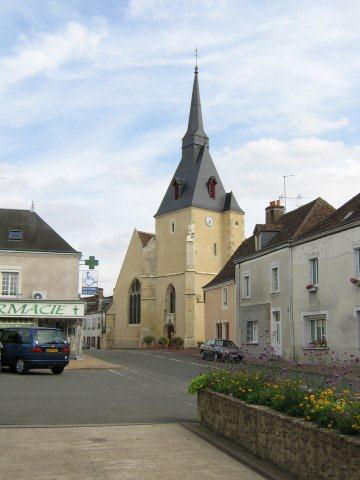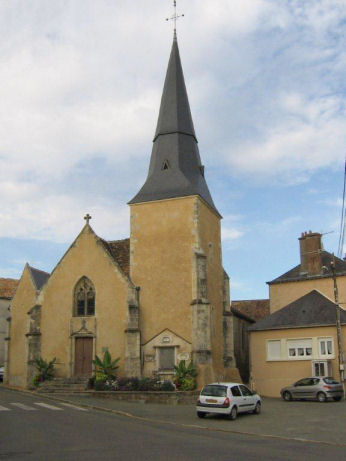 Church of Contres-en Vairais Church of St-Cosme-en Verrais
photos taken August 22, 2006 by Réjean Roy (185)
---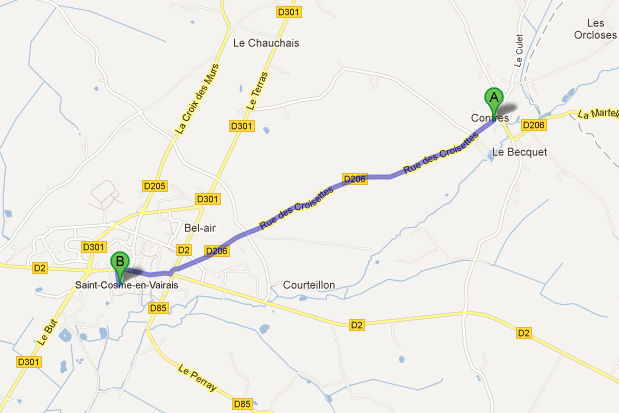 Contres is 1,7 miles from Saint-Cosme-en-Vairais.
---
Quebec in the years 1650
A document proves beyond a doubt that Florent Bisson was already in Québec in 1652. On October 23, he assist as a witness to the marriage contract of a countryman, Julien Fortin, engaged to wed Geneviève, daughter of Nicolas Gamache, one of the most seen settlers of the era.
With regard to Gervais and his family, their present was noted in Québec, on December 30, 1654, when the baptized a daughter, Simone-Barbe. On March 1st on the following year, Jean Bourdon granted to the ancestor, land in the lordship of Saint-François de la côte Saint-Jean, near Sillery. This lot was an acre of frontage on eight acres of length. Bourdon in this period had been established in Québec for twenty years and he acted as the general agent and civil engineer of the colony. It was he who had traced, in 1641, the first map of French Canada. Widow of Jacqueline Potel, in 1655, he wed Anne Gasnier, the same that welcomed and supported the "Daughters of the king" (filles du roi) at their arrival in New France between 1663 and 1673.

On August 10, 1659, Gervais Bisson, father and son, received the sacrament of confirmation from the hands of Monsignor Laval. The pontiff had only been in Québec since the previous June the 16th. "The Canada of 1659, writes the historian André Vachon, was, to say truthfully, very few things. The French population reached fewer than 2000 souls, divided into 3 centers of population, at a distance of more that 60 leagues. The region of Québec, formed the village proper and the seigneries of Beauport, Beaupré, Notre-Dame-des-Anges and Lauson, making up the better of the concentration, nearly 1200 habitants; some hundreds colonist had settled at Trois-Rivières or in the neighboring manors of Cap-de-la-Madeleine, of Sainte-Anne and of Champlain, that began the difficulty of development; at the front post, the island of Montréal was the last center of habitation".

The ancestor Gervais lived all his life at Saint-François de la côte Saint-Jean, but he owned at least two other properties, one the côte Sainte-Geneviève, the other at la côte Saint-Michel, in the manor of Sillery.

The land at the côte Sainte-Geneviève was sold to Romain Duval on July 8, 1663. It has a area of 50 acres and situated between the properties of Jean Leclerc dit Le Bouteleux and of Pierre Pinguet. The land at the côte Saint-Michel was acquired on February 18, 1663 by the reverend father Jérôme Lallemant, then superior of the Jesuites at Québec. It had two acres of frontage by thirty of length. This land will be acquired by inheritance by Gervais Bisson son, on February 10, 1689, at the price of 600 French pounds. This enclosed land lie between the domain of Mathurin Moreau and that of the Jésuites.

Gervais Bisson and his family are listed in census of 1666 and 1667. The colonist is therefore about 65 years of age and said to possess four cattle and twelve acres of valuable land. He has one servant named Jacques Senson. Later, he hires other "jack of all trades", named Manuel Rodrigue and Pierre Brannelet.

Gervais must had been more than 70 years old when the master of the world recalled him. His mortal remains were buried on August 1st, 1674 in the Saint-Joseph cemetery, near the cathedral in Québec.
---
Familes favorably known.
The Bisson families were favorably known in New France due to the number of religious it provided the Canadian church from the first generation.
---
Children of Gervais and Marie Lereau.
René-Gervais, born in France between 1640 and 1643, married in Québec on September 11th, 1664 (notary Duquet September 11) to Marie-Madeleine, daughter of Simon Boutet and Anne Vilers, from Saint-Jacques-du-Haut-Pas, Paris. An Important landholder, René-Gervais seams to have lived at several locations, notably at Saint-François de la côte Saint-Jean, at la côte Sainte-Geneviève, at Champigny, at Saint-Gabriel and at la Petite-Auvergne. He was a church custodian at Sainte-Foy and three of his sons followed the missionaries to Mississippi. Buried at Québec on March 7, 1707, Gervais was the father of seven sons and five daughters.
Antoine, born between 1641 and 1646 in France; married at Québec May 24, 1671 (notary Duquet) to Ursule, daughter of Mathurin Trud and Marguerite Garman. A carpenter, first at Dombourg, then at Lauzon, his final days were at Saint-Antoine-de-Tilly, were he was buried on January 27, 1705. Ursule had died suddenly at the end of 1701. They had six sons and eight daughters.
Jean, baptized at Saint-Cosme-de-Vair on October 1st, 1650. In all likelihood, died at infancy..
Simone-Barbe, born at Québec on December 29, 1654 and buried the same place on March 13 1722. On July 13, 1668, she became the spouse of Nicolas, a gunsmith and son of Pierre Gauvreau and Gabrielle Raimbaut, of Dompierre, in Vendée. Simone-Barbe gave birth to six sons and seven daughters, of whom two worked hospitality at Hôtel-Dieu hospital in Québec.
Marie, baptized at Québec on October 25, 1657; married May 24, 1671 (notary Duquet) to Mélaine Bonnet. Buried June 4, 1732 at Charlesbourg, where they lived this family consisted of five sons and two daughters.
Jean-François, born in Québec on November 24, 1660. Ordained a priest on November 30, 1683 and name council to the bishop a little while later. Besides a brief stay at Sorel (1687-1688), He practiced his priestly passion with quality as steward at the seminary of Québec, where he died March 15, 1712.
---
A T T E N T I O N
Some series of the dictionary Bisson of America are available at the Souvenir Store.
---
Share your research
If you are the author of genealogical research in gedcom format you can have it integrated in the information database of the A.B.A. so other members to benefit from. You can communicate with the association at the following e-mail address:



American Bisson Association

---

OFFICIAL WEB SITE OF THE A.B.A.
2000 - 2012 © All rights reserved

RETURN to home page: